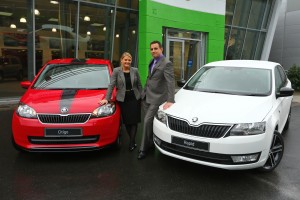 No. 1 brand in VW Group for car finance with €31.2m loaned through ŠKODA Finance Expansion continues with four new dealerships and creation of over 30 jobs
ŠKODA Ireland has recorded record sales of 1,635 models for January 2014, a 31% like-for-like increase on 2013, making the car manufacturer a top 5 brand in Ireland for the first time and bringing them one step closer to achieving their stated growth strategy of achieving an 8% share of the Irish car market by 2016.
The growth was achieved primarily through sales of the new ŠKODA Rapid model that delivered a sales increase of 47% compared to the same period in 2013, combined with access to affordable car finance through their financial partner Volkswagen Financial Services. On a full year basis in 2013, ŠKODA Finance provided finance totalling €31.2 million to fund vehicle purchases in Ireland. This is a 52% increase on the 2012 finance figure of €20.5million. In fact 31% of ŠKODA customers who purchased a vehicle in 2013 did so through ŠKODA Finance; the highest of any brand in the Volkswagen Group.
To underpin future growth ŠKODA Ireland appointed four new dealers recently in areas of strategic importance – including Spirit ŠKODA, Sandyford,  Mullingar Autos, Bradys Cavan and Michael Moore Car Sales, Athlone to bring their retail network to 25 outlets.
Commenting John Donegan, Brand Director, ŠKODA Ireland said, "ŠKODA achieved its best ever sales result this January with the success attributed to the timely arrival of our new range of models such as the new ŠKODA Rapid as well as excellent finance products. We are slowly seeing a return to growth which is evident with four new business partners investing in the ŠKODA Brand through new premises and the creation of up to 30 new jobs."