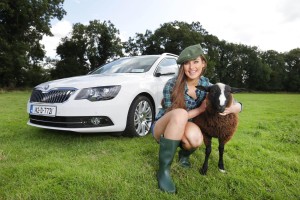 ŠKODA Ireland today announced a special finance offer for IFA members whereby ŠKODA will contribute €1,000 towards a finance deposit on any new ŠKODA purchased by IFA members. This offer is exclusive to IFA members and is applicable to any new ŠKODA purchased using ŠKODA finance.
ŠKODA will also be unvelieing the much anticipated new ŠKODA Octavia Scout at this year's National Ploughing Championships on the 23rd September with prices starting from €33,795.
The ŠKODA Octavia Scout is a real workhorse and can tow up to two tonnes, 25% more than before. It also has excellent steep-slope capability. With greater angles of incline from 16.7 degrees at the front and 13.8 degrees at the back, the Octavia Scout can also master steeper, more demanding terrain without difficulty. Electronic differential lock (EDL) supports stable start-up characteristics at low speeds in the Octavia Scout.
Raymond Leddy, Head of Marketing & Product, ŠKODA Ireland said: "We are delighted to announce this offer for IFA members. Farmers are amongst the most prudent purchasers in the market place and demand durable, reliable vehicles with excellent efficiency, hence the reason we see such a positive fit between ŠKODA and farmers. In recent years we have been able to cater even more towards farmers' needs with a range of 4×4 vehicles, for example the Octavia Scout, the newest incarnation of which, will be launched at this year's Ploughing Championships."
Also commenting, James Kelly, Director of Organisation, IFA said: "We are delighted that ŠKODA are extending their offer of €1,000 off exclusively for IFA members. ŠKODA is a popular choice of car among farmers and farm families.  This is another example of a partnership that is giving added value to being a member of our Association."
For more information about this special offer, IFA members can call into their local ŠKODA dealer. Visit www.skoda.ie/dealers to find your local dealer.